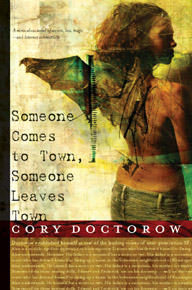 You may recall that Dave McKean and Neil Gaiman had the visually compelling MIRRORBALL at Sundance this year. Now , McKean's art is also showing up on Cory Doctorow's novel. According to Doctorow: Last week, my third novel, Someone Comes to Town, Someone Leaves Town started turning up in bookstores. It's another fine Tor hardcover, with jaw-droppingly beautiful cover art by genius Dave McKean to boot. This is a physical artifact worth owning. Hell, buy two.
As with my first and second novels, I've posted the entire text of this book online under a Creative Commons license that allows the unlimited, noncommercial redistribution of the text. You can send it around, paste it into a chat, beam it to a friend's PDA, or print out a chapter to hand out in the university common room. Like Woody Guthrie said, "Publish it. Write it. Sing it. Swing to it. Yodel it. We wrote it, that's all we wanted to do."
The whole point of giving away electronic books is to experiment with electronic text and spot where the new opportunities for earning a writer's living lie — working with my audience, not against them. So with every release, I've tried some experimentation. This book is no exception.
This book is the first novel to employ the new Creative Commons Developing Nations License. That's a license that lets anyone living in a country that's not on the World Bank's list of high-income countries treat the book as if it were in the public domain. If you live in a developing nation, you can print your own editions of this book and sell them, you can make your own movies, radio plays, translations and whatever else you can think of, charge whatever the traffic will bear for them, and never give me a penny or ask my permission (though I hope you'll drop me a line and let me know what you're up to so I can keep up on the book's spread!). The only limitation on this right is that you may only export your works to other developing nations: the rich nations where my paying customers live are strictly off-limits.